Većina roditelja strahuje oko uvođenja nemlečne ishrane kao i to kako će njihove bebe na takvu vrstu ishrane reagovati. Odmah vam možemo reći da nema razloga za brigu sve dok pratite potrebe vaše bebe i dajete mu što raznovrsnije hranljive obroke. Ono što je bitno jeste da se detetu da što raznovrsnije voće, povrće kao i integralne žitarice. Zašto je to bitno? Mi bebe navikavamo da vole hranu koju im dajemo. Što više kvalitetnih i zdravih namirnica budu unosili u svoj organizam to će im značiti za kasnije jer jedino je to siguran put do zdravih navika u ishrani koje će ih pratiti ceo život. Obično kažu da ono što dete bude jelo u uzrastu od oko 9. meseci ješće i kasnije u školskom uzrastu. Pripremajući mu što više voća i povrća na najrazličitjie načine naučićete ga da ima manju želju za svim onim nezdravim. Pod nezdravom hranom ovde mislimo na onu sa viškom šećera, soli, kalorija, zasićenih masnih kiselina. Uvek imajte na umu da sve preporuke i savete usvojite pod uslovom da ih prilagodite potrebama vašeg deteta.
Kada je beba spremna za uvođenje čvrste hrane?
Za vašu bebu je izuzetno bitno da se prvih pet do šest meseci života hrani isključivo majčinim mekom ili da koristite adaptirano meko za bebe. Tek sa razvijenim digestivnim sistemom beba počinje da luči enzime potrebne za varenje skroba. Ono što treba napomenuti jeste da se digestivni sistem ne razvija istom brzinom kod svih beba. Pa se tako dešava da su neke bebe već sa 4 meseca spremne na dodatnu hranu, neke između petog i sedmog meseca a neke tek kasnije između osmog i devetog meseca. 
Pre davanja čvrste hrane beba je već trebala razviti određene motoričke veštine kao i fiziološke funkcije. Pre svega ta beba ima najmanje 4. meseca, sposobna je da uz podršku sedi uspravno i stabilno drži glavu, gleda zainteresovano dok drugi oko nje jedu, kada joj date tečnu hranu na kašiku ne gura istu jezikom napolje. Ovo ukazuje na to da je beba u stanju da svojim jezikom pogura hranu nazad ka nepcima i da je proguta.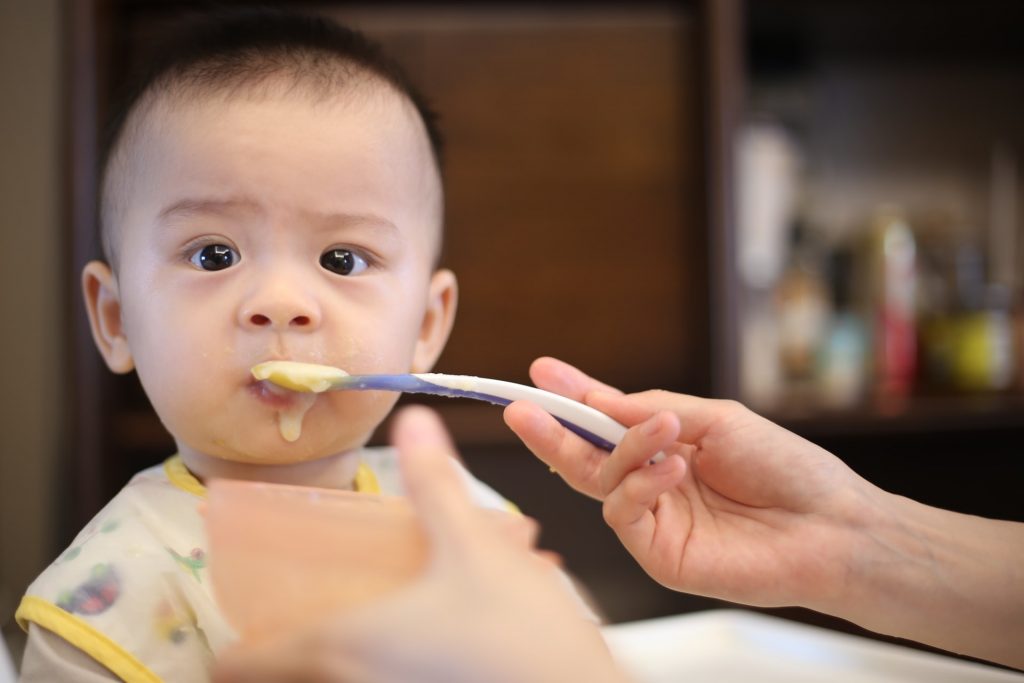 Takođe ćete znati da je vaša beba spremna za uvođenje nemlečne ishrane kada prilikom konzumiranja iste bude zinula i time pokazala da želi još. Budte strpljivi jer dešavaće se da beba izbaci hranu iz usta i to je sasvim normalno jer ukus ove hrane kao i tekstura su različiti. Baš kao što smo napomenuli budite strpljivi i dajte joj vremena.
Kojim redosledom se unose namirnice?
Jako je bitno napomenuti da majčino ili adaptirano mleko za bebe i dalje ostaje osnovni izvor nutricije i energije sve do 12 meseci.
Prvu hranu koju možete ponuditi bebi jeste kašica od voća, povrća ili žitarica. Na samom početku nudi se malo, svega do 2 kafene kašičice kako bi se beba navikla na ukus i teksturu nove hrane. Od povrća se prvo preporučuju blaži ukusi poput krompira i šargarepe a tek zatim bundeva, tikvice, grašak, keleraba, karfiol, brokoli, spanać. Od voća probajte sa kašicom od kuvane jabuke, kruške, breskve, banane.
Kašice za bebe pripremljene kod kuće najbolja su opcija za vše odojče dok su industrijske u teglicama više praktične za hranjenje van kuce.